School Meal Info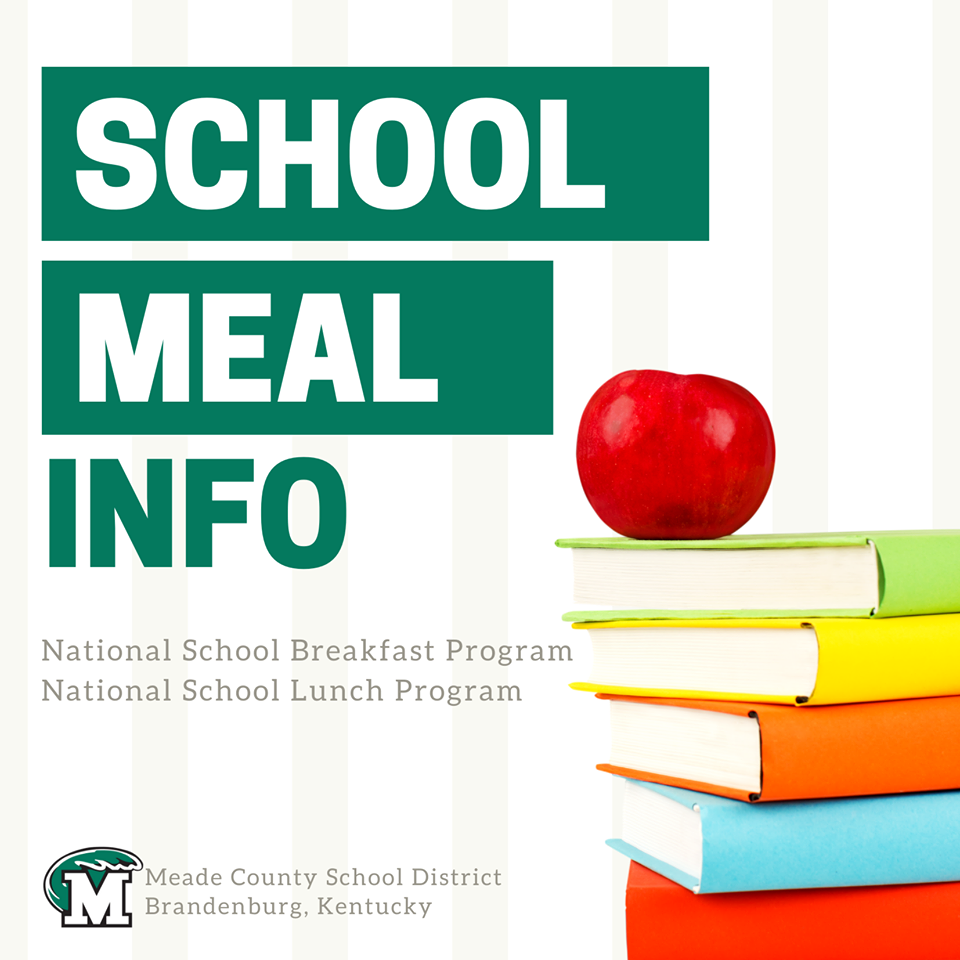 ---
All Meade County Students continue to qualify for free breakfast and free lunch. Meade County School Food Service and Transportation Department will partner together to offer drive-thru meals daily at ALL schools as well as the Flaherty mobile route and Muldraugh Baptist Church at the times listed below.
Our meal service will look different th
an it did from March-June. Please read the following information and complete a brief survey to help us better serve you:

*Currently, federal regulations specify that we must operate under the National School Lunch Program (NSLP) and School Breakfast Program (SBP) just as we would during a traditional school year.

*PreK-12 students are eligible to begin receiving meals on August 25th.

*Primary & Elementary students will need to pick up their meals at their primary/elementary school. If a primary/elementary student has older siblings that attend our middle or high school, they may also pick up at primary/elementary school. Middle & high school students who do not have primary/elementary siblings will need to pick up at either SPMS or MCHS. This does not apply to students picking up meals on our mobile routes.

What to expect:
*Meals are only available to enrolled students of the Meade County School District.
*A breakfast and lunch meal will be served once daily at no charge.
*A designated adult OR the student must be present to pick up a meal.
*School personnel will ask for the student's name.

All schools 11:00-12:00 daily:
-Brandenburg Primary
-David T Wilson Elementary
-Ekron Elementary
-Flaherty Primary/Elementary
-Meade County High School
-Payneville Elementary (may be adjusted due to construction)
-Stuart Pepper Middle School

Flaherty Mobile Route daily:
Pleasant Hill 11:00-11:20
Wimpee Rd 11:30-11:50
Warren Lane 12:05-12:20
Buckler Ave 12:35-12:50

Muldraugh Baptist Church 11:00-12:00 daily for Westpoint (enrolled in Meade County School District) and Muldraugh students.

Menus can be found at www.mealviewer.com. Continue to check our facebook page as this information could change. Please contact BOE or your child's school should you have any questions or need assistance.

Your participation in this program is greatly appreciated. We rely on the participation of all students to allow our program to continue. School Nutrition Programs are dependent upon federal funding that is directly linked to the number of meals served. Your participation does not deprive other families in need, it ensures we can continue to serve all families across the district.