Contact:
Nicki Smith Phone: 422-7515 Ext. 4526
Shania Davis Phone: 422-7520 Ext. 4526
What is a Youth Services Center?

Youth Services Centers are a part of the Meade County School system. The goal of the center is to enhance students abilities to succeed in school by assisting the students and families in meeting basic needs. This is done by providing services at the center or by linking families to agencies in the community. All students (and their families) enrolled in the Meade County High School may use the centers services, regardless of the income of the family.

Office Hours: 7:45 am-3:15 pm (Other hours are available by appointment.)

The Youth Services Center has two offices. The high school office is located across from the main office. The Freshmen Academy Office is located in the front office.

What Services are offered by the Youth Services Center?

* Health and Social Services

* Referrals to employment counseling and training

* Drug/Alcohol Abuse counseling and educational programs

* Summer and Part-time job assistance

* Family Crisis and Mental Health Counseling

* Education and Academic Support

The mission of the Meade County High School Youth Services Center is to remove non-cognitive barriers to students learning and provide educational and academic support so that all students can be successful.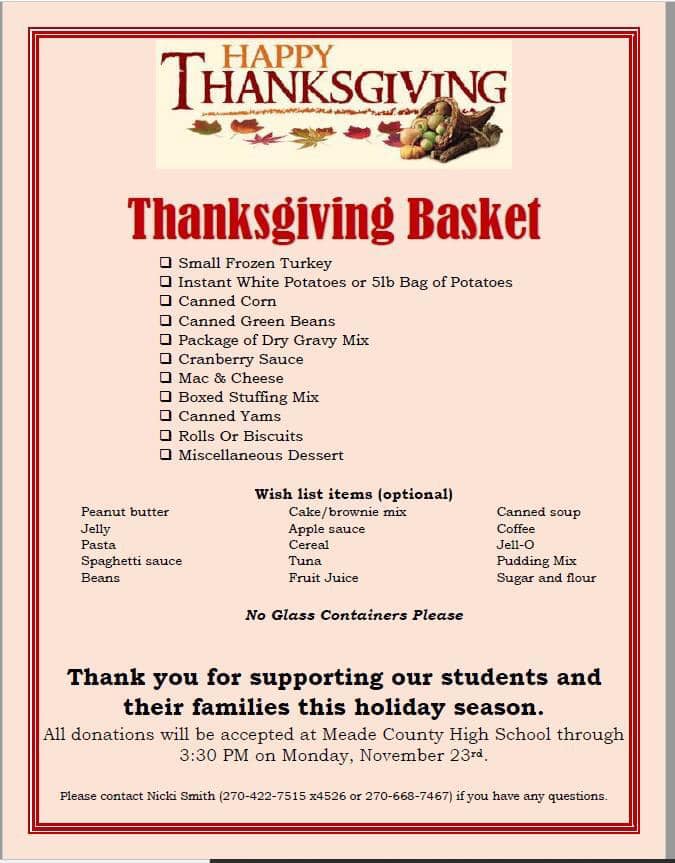 Turkey season is right around the corner and Christmas is not far off. If you are in need of assistance and you have a student at Meade County High School, please contact me at 270-422-7515 x4526 or on Facebook Messenger.
Also, we are looking for folks to SPONSOR a Meade County High School student. A shopping list is attached. If you would rather make a donation instead of shopping for a family, please contact me for details.